Create the memories you hold dear.
Make the Earth a better place, by limiting new construction and unoccupied houses.
Enhance your vacation experience and enjoy a level of luxury and comfort you've only dreamed of before.
jt-estates presents you with a whole new concept of being able to access luxury properties and only pay for life for the weeks you occupy it. The price displayed corresponds to 1 Share, you can buy a total of 8 shares on the 8 that make up this duplex Penthouse.
1- Own a secondary residence in Spain.
Why it's worth it. Spain is increasingly establishing itself as the first choice for expatriates looking for a second home, thanks to its pleasant climate, the variety of its culture and its incredible gastronomic offer. The option of renting a property is certainly available, but foreigners choose to invest in properties so that they can stay in the country for longer periods or visit it more frequently. The process of buying a second home abroad is however not always intuitive and presents some difficulties. It is good to do research before buying a property in Spain. There is also the question of costs, which can be a deterrent to potential owners. If you're ready to buy luxury real estate, but don't want to spend a fortune on a property you won't be using all year round, you're in for a great deal. This guide to timeshare in Spain covers all the basics. No matter where you plan to live, the Mediterranean coastline, the mountainous regions or the bustling urban areas, Spain has a lot to offer in terms of luxury real estate.
2- CO-housing Purchase of a secondary residence. Which is best for you?
Buy a secondary residence alone or in joint ownership. We've already established how great it can be to have a second home in Spain, but are you financially ready? A secondary residence is real estate that you own in addition to your main residence and which is not considered an investment property. It can be used for temporary stays, long-term stays or for frequent visits. The word "secondary" is not definitive because one can have more than one "secondary residence".
You can buy a second home on your own, but the costs can be high. This is why some people are starting to turn to condominiums. Co-ownership of real estate means that more than one person owns the property. It takes different forms, including co-ownership, community of property and tenancy by totality. While it is tempting to form a co-ownership alone with family and friends, there are certain obstacles to be wary of that could harm the relationship. In the absence of appropriate agreements, co-owners have no clear boundaries. Using a condominium organization such as Secconda eliminates potential conflicts. Secconda offers a platform for second home ownership that builds on the proven concept of limited liability co-ownership. We improve the fun and productivity of owning a second home by keeping luxury prices and maintenance costs low. With Secconda, the management of residences and reservations are also taken care of for the greatest comfort of the owners. We achieve this through property managers and innovative planning technology.
Advantages of buying a secondary residence in co-ownership. A more affordable price.
Buying a second home traditionally means you have to bear 100% of the cost. With the condominium, the cost is much lower. Choose the amount that suits your needs. Owners have the option of owning the share of the house that suits them, from 1/8 to 4/8. Increase your purchasing power. Joint owners can increase their purchasing power because joint ownership gives them the opportunity to buy a more luxurious property. A worry-free experience. With Secconda, everything is taken care of - property management, scheduling and bill paying - so you can focus on creating lasting memories with your loved ones. So you can focus on creating lasting memories with your loved ones. This means that there are no problems with your air conditioner or heating, and you always come home to a clean home, even after spending months outside.
3- Steps to buy a condominium Penthouse in Spain.
Everything you need to know. Buying a Secconda condominium home is easy. Each property is purchased in its own limited company, and we take care of everything from the process of selling a share to managing the property. We have also put in place systems to control co-owners individually. Once you, the future co-owner, decide to buy a share, you will have to sign the reservation document and pay for that reservation, we will withdraw the share from the market.
Submission. Within 24 to 48 hours you will receive all the necessary documents that you will need to sign. These are: - The purchase-sale contract. - Rules of use and enjoyment. - The shareholder contract. - The management contract. Exam session. You have 14 days to review all documents, visit the property and make a decision. For Secconda, the next step depends on whether the slot in question is owned by Secconda or is a target listing. A target listing is a listing of an entire home that we have identified as having the potential to be purchased due to location, amenities and value. As soon as it generates enough interest from potential buyers, Secconda buys it and offers it as part of a co-ownership program.
4- Prices and costs of Secconda.
How does it work? If the purchase of a share does not give rise to taxes, these, along with other costs, are taken into account in determining the value of the share. For complete transparency, we have briefly described all the costs that make up the share price. Purchase price. The purchase price is the price at which Secconda buys the whole house through the Sociedad Limitada company. Cost of purchase. All purchases are accompanied by taxes and processing fees, such as: Impôts Transmission Patrimoniales (ITP or VAT). When Secconda buys a used property, the amount can vary from 7 to 10% of the purchase price. When a developer sells the property directly to us, we pay VAT instead of ITP, which is 10% of the purchase price. Legal Acts Documents (AJD). It is a tax similar to stamp duty. The AJD depends on the location of the purchased property and is generally 1% to 1.5%. Notary and register. To finalize a real estate transaction, the public deed of sale must be signed at the notary. The notary fees depend on the purchase price and the notary tables. After signing the deed, the transaction must be recorded. Registration fees are also determined by the purchase price and registration tables.
5- The 10 most common questions about co-ownership.
What you need to know about co-ownership? Still not sure how to buy a second home with Secconda? Here are all the common questions you have about condominiums. 1. Is Secconda a timeshare company? No, Secconda is not a timeshare company, it is a fractional ownership company that helps you find, buy and enjoy a home. While most timeshares sell time-limited use rights to a hotel or property that a multitude of other people use, we facilitate actual ownership of real estate that can be held or sold at any time. time after 12 months of ownership. We take care of the property management of the house, we offer a hassle-free experience, we provide absolute transparency on company expenses and we facilitate resale on the open market.
2. What exactly am I buying?
When you buy a share of a property-specific limited liability company, you are buying a share of a real estate company that exclusively owns a house. You can buy between 1/8 or 4/8 of the Property Company, which in the latter case will increase your number of nights and stays. Secconda will continue to provide the SeccondApp booking system, full property and real estate company management, and help you resell your share if you wish.
3. Is buying with Secconda similar to a typical real estate transaction? It's similar in a sense because you'll end up owning real estate. However, with Secconda you are buying a share of a real estate company that owns a property and not a property directly.
4. Will I really own my house after buying a share? Yes ! Your purchase gives you a share in a property-specific limited liability company, which is the exclusive owner of the house. You and the other co-owners of the real estate company will own the house.
5. What is the planning app? The app is an intuitive real-time scheduling application that provides fair opportunities for owners. The app displays 24 months of real-time availability and allows two booking options: Scheduled Stays or On-the-Go Stays. It will provide a summary of all kinds of useful information, such as the balance of nights for the rest of your year, the balance of Program Stays, a summary of your past and future reservations, property information and basic information. .
6. How many nights can I stay in my house? Annual access is entirely dependent on the number of Units held. For each share, an owner is entitled to 44 nights out of 365 days. These 365 days are counted against the start of your ownership, not against a natural year. If you buy one or more ownership shares, you have your number of annual days, limited to 15 days in the months of July and August. If ever 2 weeks before a date nothing is reserved, this period is a free bonus to the first owner who will reserve it.
You can share with friends or family; on the other hand, strictly forbidden to rent and put in AIRBNB or brooking or other support.
7. Will I have the memorable date I want? The scheduling rules ensure that each owner will have the opportunity to enjoy at least one memorable date, per action. Each action allows an owner to book and hold one memorable date at a time. It may happen that an owner does not get their first choice in a given year, but with the 24 month booking window and the limit of one memorable date booking at a time per action, it is likely that owners will take advantage of their top picks.
8. Does Secconda directly manage my accommodation? The homes are managed by Secconda through the property company and by a third party manager. With our easily accessible feedback system, we are able to ensure constant communication between property managers and owners. We identify and engage locally experienced property managers who meet the highest standards.
9. Am I protected if another owner defaults? Yes, as a Secconda owner you are protected from any financial liability generated when an owner fails to make their payments. The company assumes this responsibility as manager of the real estate housing company. That's the advantage of being part of our ownership program!
10. Can I sell my share? Owners have the freedom to sell their share ownership at any time after 12 months of initial ownership. Homeowners interested in selling are free to set the price and appoint the real estate agent of their choice who will market the home in the same way as a whole house listing. If you prefer, we will be happy to participate in the sale, but it's up to you! Secconda wants its co-owners to be freed from the burden of buying and maintaining a second home. We support you throughout the process. Decide how many shares you want, and we'll make it happen.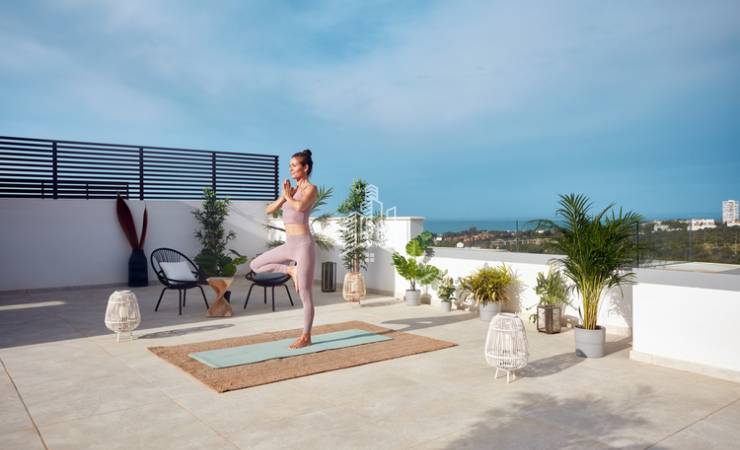 Videos
---