Spain and more particularly Andalusia with its capital Malaga is known for combining the traditional, the architecture, the diversities. but until then he had never built towers.
Malaga Towers a unique and innovative concept on the first line of the beach, 10 minutes from Malaga city center
The Malaga Tower project is unique and unprecedented, it is an original architecture focused on the environment and sustainability; Composed of 3 Towers of 21 floors each with apartments from 1 to 4 bedrooms. all of the apartments have a sea view, which is also unique and unparalleled in design. Each apartment has its own terrace, the apartments are 130 to almost 400 M2. The light is fluid, the apartments are designed for low consumption, up to the filtering of the incoming air, UV treatment on the windows in order to reduce consumption and have a great comfort of life. Malaga Towers is located on the first line of the beach on the axis of the Maritime Passage. By electric scooter it only takes 7/8 minutes to go to the city center, on foot 20 minutes in peace since it is only pedestrian or bicycle. Malaga Tower is also very close to the airport as it is only 9 Minutes away. Each Tower has its own very complete community and offers: Complete gym, Solarium, Infinity Pool, Pool bar and terrace, Co-Working Space to receive your clients or to work with wifi points and offices, Game Room, Cinema, kindergarten, 24/24 Concierge, SPA.
Each tower is composed of 2 doors and each has 2 Elevators, which gives speed and fluidity.
Purchase apartment new construction with terrace by the sea in Malaga
Each apartment has 2 garage spaces in the basement and a storage room. The apartments are equipped with the latest technologies such as Home Automation which allows you to control everything remotely, underfloor heating, fully equipped kitchens, high quality materials and everything has been done by the prestigious Beriestain studio. Washing machine, dishwasher, induction hob, oven, microwave, large fridge-freezer, open worktop, lots of storage. Master bedroom with en-suite bathroom, dressing room ..... Nothing will be missing, low energy led lights, preparation for blinds or curtains with Home Automation.
New building development on the front line of Malaga Beaches
Malaga Towers is a unique opportunity to live by the sea, close to an airport and in a City of 600,000 inhabitants out of tourist season, making it almost the third city in Spain after Madrid and its 3.5 Million, Barcelona with 1.6 Million and Valencia which is almost like Malaga with 800,000 Inhabitants.
Malaga Towers is the ideal project to live in the sun 300 Days / Year with a temperate winter climate close to the African coast and a sea that is never too cold.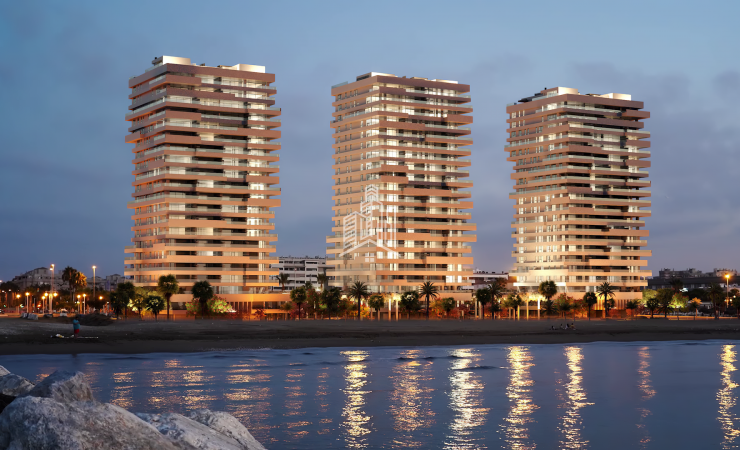 Videos
---